Impressive Used Office Furniture Options Available to Businesses in Jacksonville, FL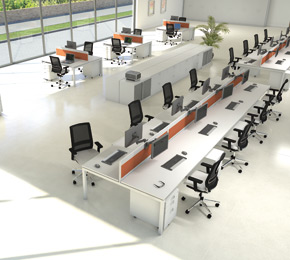 If you're looking for top-quality office furniture for your company in Jacksonville, Florida, or any neighboring community, look no further than the professionals at Panel Systems Unlimited. We have an extensive collection of case goods, modular pieces, and systems furniture to fully outfit your workspace. Whether you are starting a new business venture and need to furnish an entire floor with cubicles, or you want to update your current space with an innovative benching system, or you just desire a few new office chairs for your conference room, we have the equipment you need.
Some of the office furniture you can find at Panel Systems Unlimited for your company in Jacksonville includes:
U-shaped, L-shaped, and corner desks
Executive desks
Reception tables and chairs
Call center cubicles
Computer workstations
Bookcases
Storage cabinets
And more
We have been helping local companies and businesses across the United States furnish their offices since 1996, and we take pride in providing office furniture that looks great, serves a purpose, and lasts for years to come. To achieve this, we thoroughly clean and inspect every item in our inventory before offering it for sale to ensure it meets our high standards of excellence.
For more information on the exceptional office furniture we offer to businesses in Jacksonville, FL, and the surrounding areas, contact Panel Systems Unlimited today.