Cubicle Installation for Atlanta, Charlotte, Raleigh, Nashville, Birmingham, and Across the Nation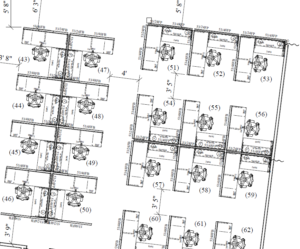 As a full-service systems furniture company, Panel Systems Unlimited provides exceptional cubicle installation services to go along with an outstanding selection of office workstations. Office managers, building owners, and furniture dealers from Atlanta to Los Angeles have come to rely on the quality of our new and used cubicles and the proficiency of our installation teams to easily keep pace with changes in personnel and décor.
What separates our cubicle installation services from our competition is our expertise in office design and layout. Our technicians use advanced CAD technology to produce detailed drawings of your particular office space to pre-plan your installation. Our office furniture specialists have more than 40 years of combined experience in the industry, and they use these CAD drawings and their extensive know-how to configure your furniture in a way that contributes to better office productivity.
Once the cubicle installation team arrives with your new furnishings, you don't have to worry about a thing. Our professionals will take care of everything, from workstation assembly to electrical setup. We even offer liquidation services, so we can buy your old furniture or you can trade it for credit, and we'll take it with us when we leave.   We don't just liquidate cubicles. Through our various partnerships throughout the furniture industry, we can liquidate your chairs, desks, and other casegoods as well.
Contact Panel Systems Unlimited today for more information on our cubicle installation services for offices in Atlanta and throughout the country, or for information on our many exceptional products, including new, used, and remanufactured workstations.