Transforming Higher Education Spaces with Innovative Furniture Solutions
At Panel Systems Unlimited, we understand that the design of higher education spaces plays a crucial role in fostering a conducive learning environment. Our team is dedicated to providing tailored furniture solutions that go beyond traditional classroom setups.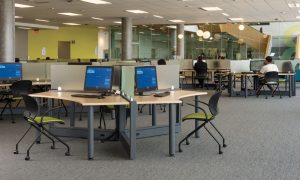 Whether you're looking to create collaborative study areas, modernize lecture halls, or design vibrant student lounges, we have the expertise and diverse product range to bring your vision to life.
Key Features of Our Higher Education Furniture Solutions:
Flexible Learning Environments: Our furniture solutions are designed to adapt to the evolving needs of higher education. From movable partitions to modular seating, we offer flexibility to create versatile spaces.
Collaborative Spaces: Foster collaboration and interaction with our collaborative furniture options. From lounge areas to interactive learning hubs, we can help you design spaces that encourage student engagement.
Technology Integration: Stay at the forefront of education technology with furniture that seamlessly integrates modern teaching tools. Explore our range of tech-friendly desks, collaborative workstations, and multimedia solutions.
Comfortable and Durable: Our furniture combines comfort and durability. From ergonomic seating for lecture halls to durable tables for study areas, we prioritize quality to ensure longevity.
Sustainable Choices: Join the movement towards sustainability with our eco-friendly furniture options. We offer products made from recycled materials and promote environmentally conscious choices.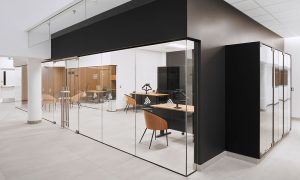 Whether you're planning a campus-wide renovation or updating specific areas, Panel Systems Unlimited is your trusted partner for creating dynamic and inspiring higher education spaces. Explore our diverse product offerings and let's collaborate to elevate your learning environments.
Our offerings cover a spectrum of educational applications, including:
Architectural Walls
Integrated Technology Solutions
Classrooms
Lounge Areas
Outdoor Patios
Cafeterias
Administration and Staff Offices
Training Rooms
Libraries