Create a Healthier Work Environment with Desktop Sit to Stand Systems for Your Business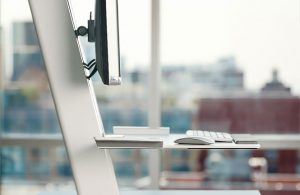 The installation of sit to stand desktop stations is a great way to increase the overall morale and health of the workforce at your business. If you're ready to upgrade your business with these impressive products, turn to the professionals at Panel Systems Unlimited. We understand the importance of offering products that are highly durable as well as functional which is why all of our products are built to last.
Furthermore, the most important aspect of a desktop sit to stand product is the health benefits that go along with them. For example, standing all day will lower the risk of weight gain and obesity which will in turn lead to less sick days for your employees. It is no surprise that the efficiency of your business is impacted when employees are absent so with sit to stand desks in place at your office it is likely that your office will be working at full efficiency more often.
Optional Ergonomic Accessories and Customization Options
In addition to the many health benefits found within our sit to stand desktop products, you'll be able to take advantage of a number of additional customizable features, including:
A variety of finish colors to suit the existing aesthetic of your office
Stable keyboard trays
Customizable cable components
And more
To learn more about the desktop sit to stand and all other ergonomic products we offer to businesses throughout the Southeast and United States, contact Panel Systems Unlimited today. When you do, one of our highly experienced team members will happily answer any questions you may have about our office furniture and other ergonomic accessories.