Preowned Office Furniture Available to Businesses in St. Petersburg, FL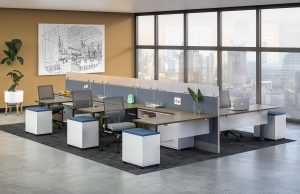 If you're looking for quality preowned office furniture for your business in St. Petersburg, Florida, or a surrounding area, look no further than the professionals at Panel Systems Unlimited. We are a full-service office furniture company that specializes in offering high-quality cubicles, modular furniture, reception chairs, desks, conference room tables, and more. Our preowned office furniture is offered at a lower price point than new furniture and will look and function as if it has been used for no more than six months. This will allow you to take advantage of top-notch furniture that will present an attractive appearance and function for years to come.
The professionals at Panel Systems Unlimited carry preowned office furniture from some of the most well-respected manufacturers in the industry. This will allow you to feel confident in knowing that you're receiving products that are made with quality craftsmanship, innovative designs, and long-lasting performance.
Design and Installation Experts
In addition, when you turn to the experts at Panel Systems Unlimited, you'll be able to take advantage of a variety of impressive design and installation services. Our team of designers will help you plan your office layout by utilizing CAD technology to allow you to preview your office space before our impressive technicians will install everything to your exact specifications.
To find out more about the impressive preowned office furniture that we offer to businesses in St. Petersburg, FL, and the surrounding areas, contact Panel Systems Unlimited today. When you do, we will happily answer any questions you may have about our outstanding new, preowned, and refurbished products.