Give Used a Chance! – Quality Office Furniture Cleaning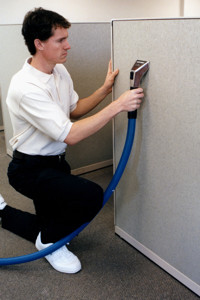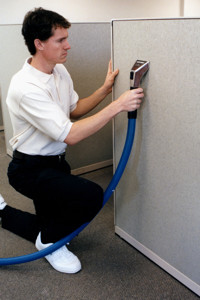 Panel Systems Unlimited offers some of the best options on the market when it comes to panel systems, furniture, and parts. We understand the stigma that's often attached to used furniture; however, the days of used-looking second-hand are a thing of the past. We provide quality office furniture cleaning for every project that leaves our warehouse. We inspect and clean almost every part of the system to ensure you receive high quality used office furniture products and are ultimately pleased with the final result! So, give used a chance – our thorough cubicle cleaning process will change your mind.
Rely on Panel Systems Unlimited's expert cubicle cleaning processes!
When it comes to the upholstered sections and partitions on our used office furniture, we specialize in professional steam cleaning to ensure a fresh, like-new look. Once we finish cleaning your office panels and furniture, we send our installation experts in to set it up, so you can return to normal productivity.
Panel Systems Unlimited takes office cubicle cleaning seriously. Best of all, the perk of purchasing used furniture is the money you'll be saving now and in the long run. Rely on Panel Systems Unlimited to provide expert office furniture cleaning – and transform the look of your office for less! Contact us for more information on our office furniture cleaning processes.