Visually Appealing Low Panel Workstations for Businesses in St. Petersburg, FL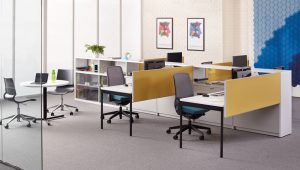 When outfitting your office with new furniture, low panel workstations are the perfect solution to create a contemporary aesthetic at your business in St. Petersburg, Florida, or a surrounding community. These unique products are designed to keep your employees on task throughout the day while still making it easy to collaborate whenever necessary. In addition, having low panel walls in place will grant your employees more access to natural lighting thanks to the more clear line of sight that low panel workstations provide. Furthermore, low panel workstations are available in a wide variety of sizes, colors, and configurations to perfectly suit the needs of your business.
When you're ready for the installation of low panel workstations look no further than the professionals at Panel Systems Unlimited. We proudly offer a variety of workstations from all of the industry's leading manufacturers. And, because we have a rotating inventory of new, preowned, and remanufactured products, you'll be able to rest assured that you'll have a variety of high-quality products to select from when you're ready to upgrade your office.
Experienced Design Team
What's more, when you turn to Panel Systems Unlimited, you'll be able to work with our design team to create a fully functional layout at your office. We'll take all of the design and functionality requirements into consideration when creating the perfect floorplan for your business. Once we have your approval on the design, our team of installers will begin moving in all of your pieces to your exact specifications.
Contact Us Today!
For more information about the high-quality low panel workstations available to businesses in St. Petersburg, FL, and the surrounding areas, contact Panel Systems Unlimited today. When you do, one of our knowledgeable team members will happily answer any questions you may have.