Desking Systems Available for Businesses in Jacksonville, FL & All Surrounding Areas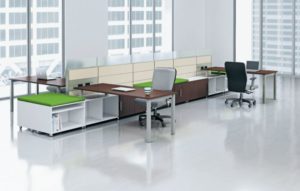 If you're thinking of adding desking systems to your office in Jacksonville or any other nearby city in Florida, turn to the experts at Panel Systems Unlimited. We specialize in providing quality systems furniture that can create an efficient and attractive workspace. And, since 1996, we've been helping companies across the United States fill their office furnishing needs. As a full-service office furniture company, we have an extensive inventory of quality, brand-name furnishings that we can help you arrange to encourage productivity and enhance traffic flow. Our team of certified design specialists can show you a three-dimensional digital preview of your furniture layout, so that you can see how your desking systems will look before having our technicians install everything for you.
When you choose Panel Systems Unlimited for your Jacksonville office desking systems, you may be surprised at the well-known manufacturers you'll find in our collection. Some of the names that we carry include:
Trendway
Teknion
Knoll
Steelcase
Herman Miller
Kimball
And more
And, you'll always find our furniture in top-notch condition. We meticulously clean and inspect every item in our inventory before offering it for sale, performing any necessary repairs or refurbishments, to ensure it meets our high standards of excellence for structural integrity, aesthetic appearance, and long-lasting functionality.
If you'd like to learn more about the premium desking systems we offer to businesses in Jacksonville, FL, and all neighboring communities, please contact Panel Systems Unlimited today.