Transform Your Workspace with Tailored Office Solutions
Are you ready to take your office space to the next level? At Panel Systems Unlimited, we understand that your workspace is more than just a place to work; it's a reflection of your brand, your culture, and your vision. That's why we offer tailored office solutions to help you create an environment that inspires productivity and fosters creativity.
Elevate Your Workspace: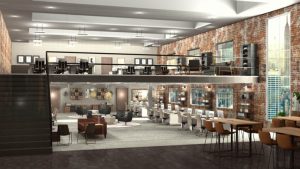 With over a quarter-century of industry experience since our founding in 1996, Panel Systems Unlimited leads the way in creating innovative office environments. Our team of experts is here to guide you through every step of the process, from concept to completion. Whether you're a startup with a tight budget seeking your first office furniture or an established corporation relocating to a new space, our focus is on helping you refresh your workspace and create the ideal environment to attract top talent. We have the experience and resources to bring your vision to life.
Endless Possibilities:
We pride ourselves on offering a wide range of options to meet your unique needs. From new and pre-owned office furniture to architectural walls, acoustical solutions, flooring, and lighting, we have the products and expertise to transform any space. We will work tirelessly to ensure that your workspace reflects your brand and culture.
Collaboration and Customization:
While our team can handle all of your office furniture and design needs, we also offer the flexibility to collaborate with renowned designers if you desire a more personalized touch. We believe in working closely with our clients to understand their goals and preferences, ensuring that the final result exceeds expectations.
Ready to Get Started?
If you're ready to elevate your workspace, we're here to help. You can schedule a personalized online meeting with one of our experts to discuss your project in detail.
Alternatively, you can fill out our contact form, and one of our team members will reach out to you promptly.
At Panel Systems Unlimited, we don't just provide office furniture; we provide solutions that empower your business. Contact us today to discover how we can transform your workspace into a place where innovation thrives and productivity soars.