Workstations for Companies in Tampa, FL & All Neighboring Communities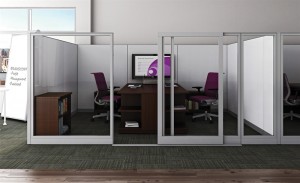 The workstations available from Panel Systems Unlimited can provide businesses in Tampa, Florida, and all surrounding cities with functional, versatile, and adaptable work areas that meet a variety of office requirements. As a full-service office furniture company, we carry an extensive collection of cubicles and other systems furniture that can be arranged as call centers, computer stations, meeting spaces, and many other professional layouts that can grow and change as your business evolves. Plus, our workstations will enhance the ambience of any workspace since we carry pieces from industry-leading manufacturers known for their quality and aesthetic appeal.
When you choose Panel Systems Unlimited for your Tampa, FL, area office workstations, you may find furnishings from any of the following brands:
Haworth
Teknion
Trendway
Knoll
Steelcase
Herman Miller
You can rest assured that whichever brand you select from Panel Systems Unlimited, your furniture will be in top-notch condition. We thoroughly inspect and clean every item before we offer it for sale, and we repair or refurbish when necessary to ensure it meets our high standards of quality. In fact, the workstations you purchase from us will look as if they have been in use for only about six months.
To help you get the most from your systems furniture, at Panel Systems Unlimited, we'll assist you with the layout and installation of your workstations. Our team of certified designers can use our CAD technology to help you design a floor plan that will allow you to preview what your office space will look like. Then, our professional technicians can install everything to your exact specifications.
For more information on the workstations and other office furniture products we offer, please contact Panel Systems Unlimited today. We proudly serve businesses in Tampa, FL, and the nearby communities.