What is Modular Office Furniture?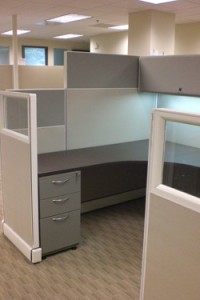 If you require new furniture for your office, it's likely that you've come across the term modular office furniture while trying to determine what the right choice is for your business. However, for many business owners, this may leave more questions than answers. Modular office furniture is an impressive type of furniture that is easily moveable and can simply be rearranged into any configuration you desire. This will allow you to have an easier time moving furniture around should the needs of your workspace ever change.
Business owners that desire this high-quality modular office furniture should look no further than the experts at Panel Systems Unlimited. We have proudly offered the best new, preowned, or refurbished office furnishings since we opened in 1996. And, no matter the type of office furniture you desire for your business, we proudly offer office furniture from many of the industry's leading manufacturers to ensure that you're receiving a product that will last for years to come.
In addition, when you turn to us for new furniture for your workplace, you'll be able to utilize our talented design team. Our designers will provide you with a CAD rendered image of your office in which we will show you exactly what your new layout will look like before we ever move in a single piece of furniture.
Contact Us Today!
For more information about the modular office furniture that we offer to homeowners throughout the United States, contact Panel Systems Unlimited today.