Used Cubicles for Businesses in Chattanooga, TN & Nearby Communities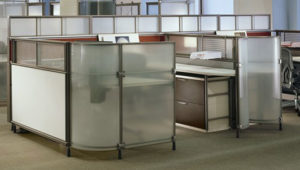 The used cubicles from Panel Systems Unlimited offer value and serviceability to companies in Chattanooga and neighboring communities in Tennessee. They not only cost less than brand new workstations, they also provide an attractive, efficient use of office space. Since we thoroughly clean and inspect every item in our inventory before making it available for sale, you can count on the aesthetic appeal, functionality, and durability of our cubicles. We won't sell any furniture unless it meets our high standards of excellence, so when you purchase office furnishings from Panel Systems Unlimited, you'll be getting components that look as if they've only been in use for about six months – and at a fraction of the cost of new.
You'll even be able to choose used cubicles from some of the industry's leading brands, known for their contemporary styling and superior craftsmanship. You might select any of the following manufacturers for your Chattanooga, TN, area office furnishings:
Allsteel
Knoll
Haworth
Steelcase
Teknion
Herman Miller
Kimball
The used cubicles we offer are also available in a wide range of configurations and with a variety of practical features designed to suit nearly any workplace requirement. From U-shaped and L-shaped desks to built-in shelving and storage panels to ergonomically designed workstations, Panel Systems Unlimited has the arrangement you need. And, we cover all of our furniture with a lifetime guarantee, so you know your investment is well-protected.
To learn more about the premium used cubicles we offer to businesses in and around Chattanooga, TN, please contact Panel Systems Unlimited today.