Functional Used Workstations Available to Business Owners in Orlando, FL & Surrounding Areas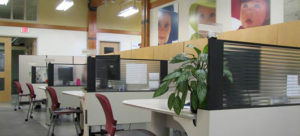 For the highest quality used workstations available to business owners in Orlando, Florida, and the surrounding areas, turn to the office furniture experts at Panel Systems Unlimited. We specialize in furnishing businesses with high quality components at lower prices than can be found by purchasing a brand new product. And, when you come to us for your workstations, you will receive a product that feels like it has been used for no more than six months.
Furthermore, when you choose to purchase your used workstations from Panel Systems Unlimited you will receive a range of features that will enhance the aesthetic appearance of your Orlando, FL, area business, including:
Divider panels that are made with frosted, glazed, or clear glass
Various panel fabrics and finishes
Wide variety of color options
Monolithic and tile frame models
Your choice of trim materials
And more
The used workstations that we provide will fit perfectly within your office thanks to the hard work of our impressive design team. By creating a CAD rendering of your proposed layout, you will be able to see how your new furnishings will enhance the functionality and traffic flow of your workspace. Once we have your approval, our installation team will begin to install your new products.
For more information about the highly functional used workstations that we can provide to business owners in Orlando, FL, and the surrounding areas, contact Panel Systems Unlimited today.  One of our highly trained team members will happily answer any questions you may have about our products and services.