Used Office Partitions: Quality, Functionality, and Savings | Panel Systems Unlimited for Businesses Nationwide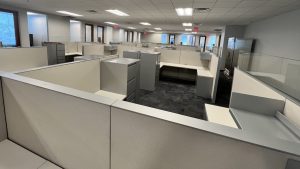 At Panel Systems Unlimited, we offer a comprehensive range of used office partitions to businesses across the nation, empowering them to create efficient and inviting work environments. Our commitment to excellence is unwavering, and it's reflected in every pre-owned divider we provide.
Unmatched Quality:
Discover the confidence of five-star reviews when you choose our pre-owned office partitions. We take immense pride in offering partitions that meet the highest standards of quality, functionality, and aesthetics. Our rigorous quality control process ensures that every partition surpasses your expectations.
✓ Thorough Fabric Cleaning: Each fabric surface is meticulously cleaned, ensuring a fresh and inviting workspace that aligns with your professional image.
✓ Precision Inspection: We meticulously inspect every moving part, guaranteeing seamless functionality and partitions that perform as if they were brand new.
✓ Complete Trim Inclusion: All trim components are thoughtfully included, maintaining the partitions' visual appeal and functionality.
✓ Comprehensive Lighting Testing: Lighting is vital for any workspace. Our team tests all lighting components to ensure they illuminate your environment perfectly.
✓ Defect Elimination: We have zero tolerance for major defects. You'll only receive partitions that meet our stringent quality standards.
✓ Detailed Order Check and Photography: Before shipping, each order undergoes a careful review and photography process, ensuring accuracy and transparency in what you'll receive.
✓ Professional Packaging: Your satisfaction is our priority. We expertly package each component to ensure a safe arrival, making your workspace transformation hassle-free.
✓ Limited Lifetime Warranty: We stand behind our products. Enjoy peace of mind with our limited lifetime warranty, a testament to the durability and quality of our pre-owned office partitions.
Unbeatable Savings and Flexibility:
Our pre-owned office partitions offer unbeatable savings when compared to brand-new merchandise. Despite the cost difference, these panels look as if they've been in use for only about six months. Moreover, they can be easily reconfigured, providing you with the flexibility to adjust your workspace arrangement as needed.
Design Details that Matter:
We pay attention to design details, offering a wide variety of style options for your used office partitions. Choose from wood veneer, glass, and fabric surfaces, numerous color and pattern choices, and assorted sizes and shapes. To further assist you with your partition configuration, our team of certified designers can develop a detailed floor plan to best utilize your space.
Your Full-Service Partner:
At Panel Systems Unlimited, we are a full-service office furniture company, ready to provide the products, design expertise, and installation assistance you need to create the office environment you want. Contact us today to learn more about how our used office partitions can enhance functionality, style, and savings for your business. Panel Systems Unlimited proudly serves the entire United States.
Check out our current inventory.