Used Office Partitions from Panel Systems Unlimited for Businesses Nationwide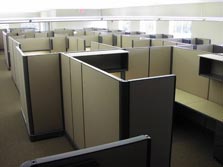 Panel Systems Unlimited provides quality used office partitions to offices across the nation to assist them in creating efficient and inviting work environments. All of our pre-owned dividers undergo an extensive inspection, cleaning, and refurbishing process before being made available for sale. Anything needing to be replaced or repaired is taken care of, and if the partitions don't meet the high standards of Panel Systems Unlimited, they are not kept in our inventory. Moreover, our products offer unbeatable savings when compared to brand new merchandise. While the difference in cost is notable, these panels look as if they've been in use for only about six months.
In addition to the value our office partitions offer, they can also be easily reconfigured, giving you the flexibility to adjust your workspace arrangement as needed. Our trained and authorized installers can assemble and set up your panel systems to your exact specifications, so you can easily create an office arrangement that optimizes workflow.
As part of our attention to design details, at Panel Systems Unlimited, we offer a wide variety of style options for your used office partitions to ensure they'll suit your office's existing décor. You can choose from the following:
Wood veneer, glass, and fabric surfaces
Numerous color and pattern choices
Assorted sizes and shapes
To further assist you with your panel configuration, we have a team of certified designers who can develop a detailed floor plan to best utilize your space.
At Panel Systems Unlimited, we are a full-service office furniture company, able to provide the products, design, and installation assistance you need to create the office environment you want. Contact us today for more information on how our used office partitions can give your business more functionality and style. Panel Systems Unlimited proudly serves the entire United States.