Save Money at Your Office with Used Office Partitions from Panel Systems Unlimited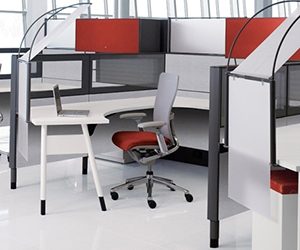 If a cubicle farm isn't the look you had in mind for your business in Greenville, South Carolina, or a surrounding area, turn to the professionals at Panel Systems Unlimited to learn about how office partitions are an appealing alternative. Our new, used, and refurbished office furniture can help businesses of nearly every size and budget in the area. Unlike a traditional cubicle arrangement, office partitions allow for your team to easily share ideas and collaborate throughout the workday.
In addition, at Panel Systems Unlimited we are able to provide the perfect used office partitions because we acquire products from all of the industry's leading manufacturers. This means you can rest assured that your preowned products are made with craftsmanship that is built to last. In fact, our warehouse is always full of premium commercial-grade furnishings from all of the industry's most-well-respected brands.
Premium Design Services
What's more, when you turn to the professionals at Panel Systems Unlimited for office partitions or any other office furniture, you'll be able to utilize our certified design team to create the perfect layout and design for your office. And, you can feel secure knowing that your office partitions will remain protected because we offer an impressive guarantee on all of the systems furniture we offer.
To learn more about the used office partitions and all other furnishings we offer to businesses in Greenville, SC, and the surrounding areas, contact Panel Systems Unlimited today.