Used Office Dividers for Businesses in Augusta, GA & All Nearby Communities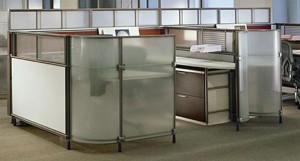 When you need quality used office dividers for your company's workspace in Augusta or any neighboring community in Georgia, turn to Panel Systems Unlimited. We have an extensive collection of commercial-grade office furnishings that offers affordability, durability, and aesthetic appeal, so we're sure to have the dividers you need to transform your office into an efficient and attractive work area. Our partitions come in a variety of sizes, styles, and configurations that can be rearranged as your company evolves to make the most of your floor space and help to direct traffic flow.
Whether you're looking for a few computer workstations or an array of call center cubicles, Panel Systems Unlimited can provide the perfect used office dividers for you. Plus, you can choose from the following panel design options to suit your Augusta office décor:
Various panel fabric choices
Glass dividers
Tile and frame models
Wood veneer finishes
Numerous color selections
And more
Whichever features you choose, you can have Panel Systems Unlimited assist you with the planning, layout, and design of your dividers. Our certified technicians can create computer renderings to show you what your office space will look like before any panels are installed. Once you have a plan in place, our professional installation team can set everything up to your exact specifications. And, you can rest assured your business furnishings investment is secure since we offer a lifetime guarantee on everything we sell.
For more information on having Panel Systems Unlimited transform your Augusta, GA, area office with our premium used office dividers, please contact us today.