Used Cubicles for Companies in Jacksonville, FL & All Nearby Communities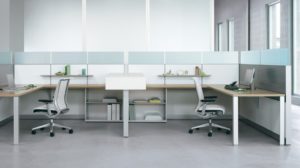 If you are in the market for used cubicles and have a business in Jacksonville or any other neighboring city in Florida, then look no further than Panel Systems Unlimited. We offer only the finest in used systems furniture. Each of our previously owned workstations has passed a stringent inspection and had missing and defective parts replaced, ensuring a gently used appearance and exceptional functionality. This means that regardless of which pre-owned cubicle you purchase, you can rest assured that it will be in excellent condition.
As a full-service systems furniture company, we also offer comprehensive design services to help you get the most out of your office space. With the help of one of our design specialists, you can create a CAD to find the perfect balance of aesthetics and efficiency for your workplace. Then, you can opt to have our trained technicians assemble and arrange your pre-owned systems furniture according to your digital blueprint, making your design a reality.
When buying a used workstation from Panel Systems Unlimited for your office in Jacksonville, FL, you could be able to choose from industry-leading manufacturers like Teknion, Allsteel, Herman Miller, Knoll, Trendway, and Kimball. In addition, our wide selection of used office cubicles includes numerous design options, such as:
Various shapes and dimensions
A range of surface materials and colors
Assorted panel fabrics and colors
Contact Panel Systems Unlimited today for more information on how to add our premium used cubicles to the office of your Jacksonville, FL, area company.