Cost-Effective Used Cubicles Available to Business Owners in Chattanooga, TN & Surrounding Areas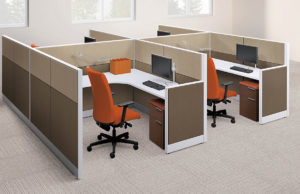 If you are looking for used cubicles for your business in Chattanooga, Tennessee, or a surrounding area, make sure you turn to a company that has a reputation for providing top-of-the-line preowned products. It is important to keep in mind that some companies may sell you whatever they have in-stock, no matter the quality, but what you really need is a product that looks and feels like it has been used for no more than six months. This will allow you to receive a seemingly new product but at fractions of the cost.
Furthermore, some business owners worry that with used cubicles they may not be able to receive the exact style of cube they want for their business in Chattanooga, TN, or a surrounding area. However, if you turn to the right company, that is not the case. Some of the popular styles to look for, include:
U-shaped cubicles
Collaborative or open plan cubicles
L-shaped cubicles
Cubicles with panels of multiple heights
And more
Thankfully, Panel Systems Unlimited has been in the area since 1996 and can assist you with whatever your needs for used cubicles may be. When you turn to us you will be able to take advantage of our design team that will help you to envision what your office will look like once the installation is complete.
For more information about the high-quality used cubicles that we offer to business owners in Chattanooga, TN, and the surrounding areas, contact Panel Systems Unlimited today. We provide an impressive lifetime warranty on all of the products that we offer to allow you to rest easy knowing that your investment will always be protected.