Outstanding Systems Furniture Available to Businesses in Tampa, FL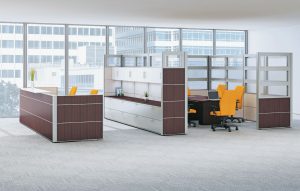 Selecting the right systems furniture for your office in Tampa, Florida, or a surrounding area doesn't have to be a struggle. By turning to Panel Systems Unlimited, we'll make it easy to select the right products for your office because our office furniture is available in a wide selection of new, preowned, and remanufactured products. And, we proudly offer these products while providing you with excellent customer service from highly-trained professionals.
In order to achieve this, we will take a lot of the guesswork out of the systems furniture acquisition process by allowing you to work closely with our experienced design team. Our team of designers will create a CAD-rendered drawing of your new workplace so that you can visualize the completed layout once all of your systems furniture has been installed. And, we proudly offer a wide array of products from all of the industry's most trusted furniture manufacturers so that you can rest assured you're receiving aesthetically appealing styles that are meant to last for years to come. We even back all of the preowned furniture we offer with a lifetime warranty so you can feel truly secure in your investment.
For more information about the outstanding systems furniture we offer to businesses in Tampa, FL, and the surrounding areas, contact Panel Systems Unlimited today. When you do, we will happily answer any questions you may have about the systems furniture and other services we offer to businesses in Tampa, FL.