Used Systems Furniture for Businesses throughout Raleigh, NC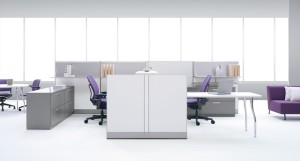 Having the right type of systems furniture in your Raleigh, North Carolina, office is important, which is why it pays dividends to deal with a furniture company that can provide professional help during the process of selecting workstations. At Panel Systems Unlimited, you can find the assistance you need from our salespeople, all of whom are intricately knowledgeable about the different brands of used systems furniture we offer. We can assess your needs and help you identify the right kinds of workstations to create an ideal office space, one that puts your employees in an environment that promotes productivity and exudes the type of atmosphere you desire.
When purchasing used cubicles, it pays to invest in furnishings you can feel confident will stand the test of time. To accomplish this, it's always best to stick to products from brands that have a reputation for craftsmanship, such as:
Herman Miller
Haworth
Teknion
Allsteel
Steelcase
Knoll
And more
While our selection of office furniture is fluid, in it you could find used workstations from these aforementioned, commercial-grade furniture manufacturers, as well as others. All of the used systems furniture we sell is backed by a lifetime warranty, so you can feel confident your investment is protected no matter which option you choose.
Don't hesitate to contact Panel Systems Unlimited to receive more information about the systems furniture we have available. We proudly sell office furniture to businesses in Raleigh, NC, and all nearby cities.