Systems Furniture for Businesses in Charlotte, NC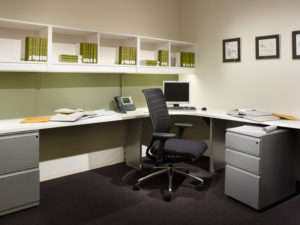 If you need to purchase systems furniture for your business in Charlotte, North Carolina, then turn to the office furniture specialists at Panel Systems Unlimited. We have an outstanding selection of pre-owned cubicles and workstations from top-rated manufacturers, and we offer all of the office furniture in our inventory at highly competitive prices.
When shopping for used systems furniture at Panel Systems Unlimited, you can find options from reputable brands such as:
Kimball
Haworth
Knoll
Steelcase
Herman Miller
Allsteel
Trendway
Teknion
There are several advantages to purchasing used office furniture from Panel Systems Unlimited. Many furniture dealers are unable to match the quality of the used modular office furniture we sell because they choose to sell used workstations as-is. However, we put all of our pre-owned office furnishings through an extensive refurbishment process, making sure every workstation we include in our inventory meets our own stringent standards for form and function. This allows us to offer durable and stylish pre-owned workstations that in many cases are virtually indistinguishable from new units, and it helps our customers in Charlotte, NC, feel confident that they are investing in quality office furniture. Furthermore, when doing business with Panel Systems Unlimited, you can take advantage of our professional services, including space planning and office layout design, as well as have your systems furniture installed by fully licensed and certified technicians.
To learn more about the systems furniture we have available for businesses in Charlotte, NC, please contact Panel Systems Unlimited today.