Premium Sit to Stand Desks Available to Businesses in Greenville, SC & Surrounding Areas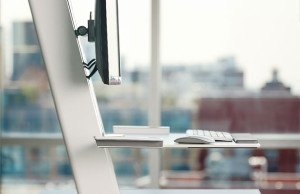 Installing sit to stand desks at your business in Greenville, South Carolina, or a surrounding area, instead of another, more traditional, desking solution will allow you the opportunity to alleviate any health issues associated with the modern workplace. It has been proven that office workers that utilize a sit stand desk will lose almost 1,000 extra calories simply by standing at their desk for a portion of the day. However, many workers will find themselves tired by standing all day which is when you will be able to convert your desk back to a seated option.
Panel Systems Unlimited understands the importance of being able to switch between sitting and standing at work and that is why we offer sit to stand desks to business owners in the area. These sit stand desks that we offer to business owners in Greenville, SC, and the surrounding areas, come paired with a large number of unique features, including:
Customizable cable options
Minimalistic design
Stable keyboard trays that stay in place
Various finish options
And more
Furthermore, by turning to us you will be able to take advantage of our in-house design team who will create the most effective layout for your office space. Our crew will provide you with a finished CAD-rendered image so that you can give approval on the layout before a single piece of furniture is moved into your office space.
For more information about the sit to stand desks available to businesses in Greenville, SC, and the surrounding areas, contact Panel Systems Unlimited today. When you do, a highly knowledgeable and experienced team member will happily answer any questions you may have about our products and services.