High-Quality Sit to Stand Desks Available to Residents in Chattanooga, TN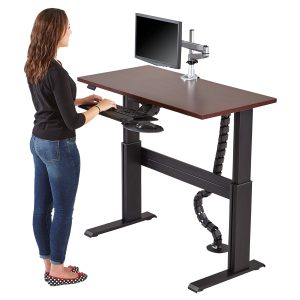 Having sit to stand desks installed at your business in Chattanooga, Tennessee, or a surrounding area, is a great solution instead of a more traditional desking solution because it will allow you the opportunity to alleviate any health issues associated with sitting all day at your desk. In fact, it has been proven that office workers that utilize a sit to stand solution will lose almost 1,000 extra calories simply by standing at their desk for a portion of the day. However, many workers will find themselves exhausted by standing all day so it's important to find an option to convert your desk back to a seated option when you desire it.
If you desire these impressive sit-to-stand desks at your office, look no further than the experts at Panel Systems Unlimited. We understand the importance of being able to switch between sitting and standing desks and the value they provide business owners in the area. The sit-to-stand desks we offer to business owners in Chattanooga, TN, and the surrounding communities come paired with a number of unique features, including:
Various finish options
Stable keyboard trays that stay in place
Customizable cable options
Minimalistic design
And more
Contact Us Today!
To find out more about the impressive sit to stand desks available to residents in Chattanooga, TN, and the surrounding communities, contact Panel Systems Unlimited today. When you do, a highly knowledgeable team member will happily answer any questions you may have about our reliable services.