Help Your Employees Stay Healthy With Sit-to-Stand Desks at Your Business in Knoxville, TN, or a Surrounding Area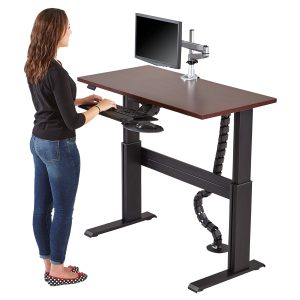 If you're looking for ways to increase the productivity of your employees at your office in Knoxville, Tennessee, or a surrounding area, considering having sit-to-stand desks installed. These quality products will help your employees stay on task by allowing them to have the freedom to sit or stand at their desire. Recent studies have shown that sitting all day while working is extremely unhealthy and results in more missed workdays due to illness. However, if your employees are able to stay healthy by standing throughout the workday, there will be less missed time due to frequent illnesses such as heart disease and lower back pain. Not only that but standing helps increase oxygen to the brain which will keep your employees alert and ready to get the job done.
Certified Design Team
In addition, when you turn to Panel Systems Unlimited for ergonomic office furniture or any other furniture options, you'll be able to take advantage of our impressive in-house design team. Our certified designers will create a CAD-rendered drawing of your layout that will show you where all of your new pieces will be installed when the project is complete. And, once we have your approval of the new design, our team of installers will begin furnishing your new space.
Contact Us Today!
For more information about the sit-to-stand desks and other ergonomic office furniture that we offer to businesses in Knoxville, TN, and the surrounding areas, contact Panel Systems Unlimited today. When you do, one of our team members will happily answer any questions you may have about our products.