High Quality Sit to Stand Desk Systems Available to Businesses in Atlanta, GA & Neighboring Communities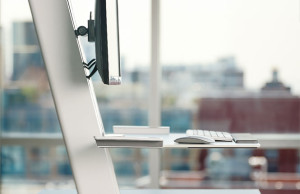 Having a sit to stand desk installed at your office in Atlanta, Georgia, or a surrounding area, will grant you the option to remain healthy and active while at the work place. Thankfully, Panel Systems Unlimited is in the area and has the capabilities to provide you with sit to stand desks or any other style of desks your team may require.
In addition to the health benefits associated with a sit to stand desk from Panel Systems Unlimited there are many other unique features that your business in Atlanta, GA, will be able to benefit from, such as:
A wide variety of finish colors to perfectly suit your existing aesthetic
Customizable cable components
Stable keyboard trays
Minimalistic design
And more
What's more, by turning to Panel System Unlimited for a standing desk or any other office furniture solution, you will be able to utilize our in-house design team to create a beautiful and effective layout of your office space. Our team of certified designers will provide you with a CAD-rendered drawing that will show you where everything will be installed when the job is complete. Once we have your approval our team of installers will begin to furnish your space.
For more information about the sit to stand desk options that we offer to businesses in Atlanta, GA, and the surrounding areas, contact Panel Systems Unlimited today. One of our highly knowledgeable team members will happily answer any questions you may have about our products and services.