Efficient Sit to Stand Desk Options for Your Business in Charlotte, NC, or a Surrounding Area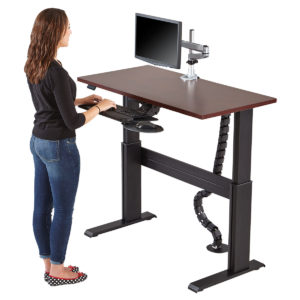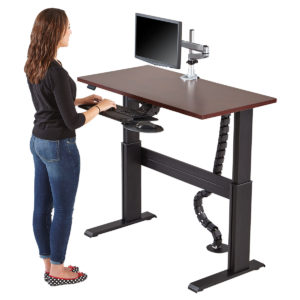 Installing a sit stand desk at your office in Charlotte, North Carolina, or a surrounding area is an excellent way to provide you with a functional desk that does away with the health issues that can be experienced from spending your entire day seated at work. The majority of workers that have a standing desk installed at their office will lose up to 1,000 extra calories by just standing for part of their day. And, with the convenience of converting the desk back to a seated position you can easily relax when the standing becomes too much.
Thankfully, Panel Systems Unlimited offers a sit stand desk option and understands how important it is to be able to switch between sitting and standing at your convenience. And, when you decide to grant your employees at your business in Charlotte, NC, or a surrounding area, with sit to stand desks, they will be able experience a number of additional features, including:
Keyboard trays that stay in place even while switching between seated and standing positions
Various finish options to find an aesthetic that works for your office
Customizable cable solutions
Minimalistic designs
And more
For more information about the sit stand desk selection available to business owners in Charlotte, NC, and the surrounding areas, contact Panel Systems Unlimited today. One of our highly knowledgeable team members will happily answer any questions you may have about our products and services.