Comfortable Sit Stand Desk Solutions for Businesses in Atlanta, GA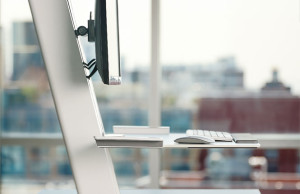 Utilizing a sit stand desk can be a good way to alleviate any health issues associated with sitting all day at your Atlanta, Georgia, business. Standing all day, or for a portion of the day, has been proven to greatly lower your risk for weight gain. This is because office workers who use a sit stand desk have been shown to burn almost 1,000 extra calories at work by simply standing at their desk for a portion of the day. Additionally, standing desks have been linked to a reduction in back pain for employees who usually spend the majority of their day sitting at their desk.
At Panel Systems Unlimited, we utilize the leading manufacturer of height adjustable desks in the industry – Human Scale. The sit stand desk selection they offer for business owners in Atlanta, GA, and surrounding areas, can provide you with a large number of unique features, including:
Various finish options
Customizable cable options to match your needs
Minimalistic design
Stable keyboards that stay in place no matter how much pounding you do while typing on it
And more
Additionally, our design team will expertly help you find a layout that works for your new desks. We will develop a CAD preview of your office space once your new products are delivered and you will be able to approve or reject the layout before a single piece is delivered.
For more information about the benefits of using a sit stand desk at your office in Atlanta, GA, contact Panel Systems Unlimited today.