High-Quality Refurbished Workstations for Your Business in Washington D.C. or a Surrounding Area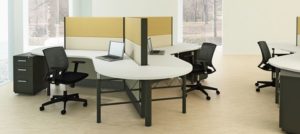 The refurbished workstations offered by Panel Systems Unlimited to business owners in Washington D.C. and the surrounding areas are made to look and feel like they are brand new or have been used for no longer than six months. This means that you will be able to receive a product that is in a like-new condition at a fraction of the cost of buying it new.
Additionally, at Panel Systems Unlimited we offer a wide range of new, preowned, or refurbished workstations to choose from so that you can perfectly suit your design preferences and the existing layout of your office in Washington D.C., or a surrounding area. You may choose from the following styles of workstations:
Built-in shelving and storage
Adjustable height and width
L-shaped, U-shaped, and corner workstations
Customizable fabrics and pattern colors
And more
Additionally, when you turn to us for refurbished workstations or other furnishings, you will be able to take advantage of our certified design team. This team of specialists will present you with a CAD rendering of your new layout so that you can see how to fully maximize your space for efficiency and functionality. Once the new layout is approved our team will begin the installation of your new products.
For more information about the refurbished workstations that we offer to businesses in Washington D.C. and the surrounding areas, contact Panel Systems Unlimited today. When you do, one of our highly knowledgeable team members will happily answer any questions you may have regarding our products and services.