Refurbished Office Furniture for Companies in Birmingham, AL & Neighboring Communities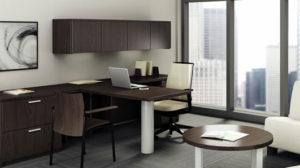 When you buy refurbished office furniture from Panel Systems Unlimited, you're getting quality furnishings for your Birmingham, Alabama, office that look and function much like new – but without the expensive price tag. Our furniture is an affordable way to outfit your company with exceptional pieces that will enhance your office décor and provide years of serviceability for you and your employees. We begin the refurbishment process with a meticulous inspection of every item in our inventory, followed by steam cleaning the upholstery, retouching surface areas, repairing any missing or broken components, and making sure all trim and other details are intact and in good condition. In short, at Panel Systems Unlimited, we take every step possible to ensure our refurbished furniture will exceed your expectations.
The advantages of buying refurbished office furniture are many, and it can be a wise choice when you need to furnish an entire company, whether in Birmingham or another nearby city in AL. Some of the benefits include:
The ability to purchase high quality furniture for less – By buying refurbished items, you may find that you can afford pieces from the most sought-after, well-respected manufacturers that would be too costly if they were brand new.
Preservation of the environment – Re-using furniture is good for our planet, reducing waste and reducing the need for raw materials from limited resources.
Recognition for your "green" business practices – Buying refurbished or pre-owned furniture for your company can earn you points toward LEED certification as well as possible tax incentives.
To learn more about purchasing top-notch refurbished office furniture from Panel Systems Unlimited, please contact us today. We are proud to serve businesses in and around Birmingham, AL.