We Select Some of the Best Pre-Owned Office Furniture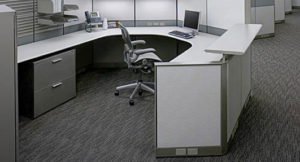 If you are moving or expanding, why not consider pre-owned office furniture? Not only is it a cheaper alternative to new but buying used modular office furniture is more earth-friendly! At Panel Systems, we take all the guesswork out of buying pre-owned office furniture by walking you through every step of the way.
Our specialty is used modular office furniture. We choose high-quality, complete office furniture systems to begin with and then carefully and professionally steam clean the system to give the best possible look. Then, we professionally install it to complete that "like new" feel.
High-Quality Used Modular Office Furniture
We are not the cheapest pre-owned or used modular office furniture dealer out there, nor do we want it to be! Let's face it. Buying modular office furniture is a real pain. In this world, you get what you pay for. Sure, there are cheaper folks out there selling used modular furniture, but are you going to get every last piece? Or, will you get "well, it was missing when we got it so we don't have it?" We sell COMPLETE. If we don't have a piece of trim, we get it. Do they have a showroom so you can see the furniture in person? Do they guarantee their furniture full functionality upon install and of any future failures? Will they work directly with your contractors to insure a smooth and successful installation? Bottom line, if you want to reduce your risk and headaches and not worry about making the right choice in pre-owned office furniture, Panel Systems Unlimited can help!
Please browse our current inventory of pre-owned office furniture. We have an average of 800 to 1,000 workstations at any given time in many different sizes, shapes, and colors. If you need to get the job done and look like a hero to your boss by saving time, money, and resources, then let Panel Systems help you!