Convenient Open Plan Systems for Businesses in Nashville, TN & Surrounding Areas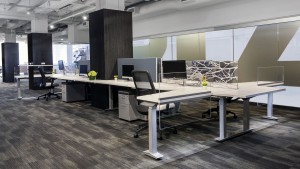 The open plan systems offered to business owners in Nashville, Tennessee, from Panel Systems Unlimited, are attractive, durable, and will promote an efficient and functional work environment. We have been helping business owners since 1996 to find the best new and remanufactured open office pieces that provide exactly what they are looking for.
One of the most sought after features of an open office design is that it will increase the collaboration and teamwork of your employees by grouping workstations together with less panels than a typical cubical design. However, you are also going to want furnishings that will enhance the appearance of your space. With the selection of open plan systems that Panel Systems Unlimited offers to businesses in Nashville, TN, and the surrounding areas, you will have access to a large variety of options that will make your office look great, including:
A wide assortment of work surfaces
Various styles and colors of panel fabrics
Trim, edge, and base color selection
And more
Our highly experienced design team will help you to fully visualize exactly what your workplace will look like before the job even begins. This is done by rendering a CAD drawing of your office layout for your approval. This will ensure that your furnishings are installed in the most efficient and functional way possible, while also enhancing the appearance of your office.
To learn more about the high quality open plan systems offered by Panel Systems Unlimited to businesses in Nashville, TN, and the surrounding areas, contact us today. We stand by our products' quality and offer a lifetime warranty on all of the furnishings that we offer.