Open Plan Benching Systems for Companies in Charlotte, NC & All Nearby Communities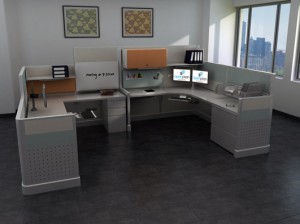 Panel Systems Unlimited offers open plan benching systems to businesses in and around Charlotte, North Carolina, which are an excellent way to furnish an office space. These innovative components are flexible in design, attractive in appearance, and practical in performance. With a range of color and finish choices, including glass dividers, our benching systems can be customized to reflect your aesthetic preferences. Additionally, they can be arranged to fit your current space and restructured as your company evolves and your work area changes. Equipped with convenient accessories, such as easily accessible data and power ports, optional privacy screens, and adjustable monitor arms, our open plan systems provide your employees with a comfortable, productive work environment.
Furthermore, since we carry furniture from some of the top names in the industry, you can count on durable construction and excellent craftsmanship in every item you purchase from Panel Systems Unlimited. Some of the manufacturers you may recognize when you browse our selection of open plan benching systems for your office in Charlotte, NC, include:
AIS
OPS
Herman Miller
Haworth
Kimball
Teknion
Steelcase
And more
As a full-service office furniture dealer, Panel Systems Unlimited also offers planning and design services along with our products. One of our certified designers can create a digital preview of your proposed layout, so you can make sure everything looks as you expect before having our professional technicians install your furnishings according to the pre-approved specifications. Additionally, you can rest assured your furniture investment will be well-protected because we cover each of our products with a lifetime guarantee.
To learn more about the outstanding open plan benching systems we offer to businesses in the Charlotte, NC, area, contact Panel Systems Unlimited today.