Open Plan Office Furniture for Businesses in Memphis, TN & Surrounding Communities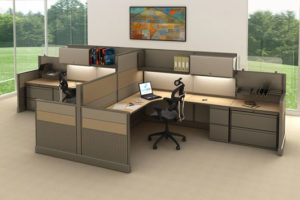 Open plan office furniture can help your business in Memphis, or any nearby city in Tennessee, create an efficient work environment that encourages collaboration and teamwork from your employees while also providing them with space for individualized, focused work. Without the traditional dividing walls separating your office into closed spaces, your workplace will feel less confined and more open to an exchange of ideas among co-workers. And, the company that has the best selection of quality open plan furniture is Panel Systems Unlimited. We carry components from Open Plan Systems (OPS), an industry-leader in open office furnishings, known for their superior craftsmanship and durability.
We offer these systems in two available options, each with its own characteristics and features. When you want open plan furniture for your office in Memphis, TN, you can select from one of the following OPS series:
The Signature Series – built to the same industry standards as other commercial-grade furnishings, this series provides stylish, new workstations guaranteed to last for years.
The Sustainable Series – remanufactured items that have been stripped down to the core and completely reconstructed into durable workstations that are virtually indistinguishable from new pieces.
Both of the OPS open plan furniture options offered at Panel Systems Unlimited are compatible with Herman Miller AO2 systems furniture, so you can add them to components you may already have. Plus, we offer our own extensive collection of cubicles, workstations, and other office furniture that may serve your workplace requirements.
For more information on all the furnishings we have available at Panel Systems Unlimited, including our open plan office furniture, please contact us today. We are proud to serve businesses in Memphis, TN, and all surrounding areas.