Open Plan Office Furniture for Companies in Macon, GA & Neighboring Communities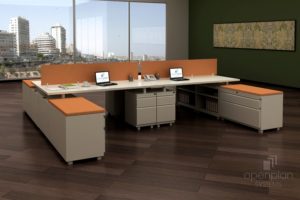 For quality open plan office furniture that can create an attractive and efficient workspace for your business in Macon or any nearby community in Georgia, turn to the professionals at Panel Systems Unlimited. As a full-service office furniture company that has been serving businesses nationwide since 1996, we have the experienced staff and premium furnishings to outfit your office with stylish, durable pieces designed to serve the specific needs and ambience of your workplace. In fact, our certified design team is ready to help you with the layout and planning of your open plan system, so that you can maximize your floor space and optimize the traffic flow of your office.
At Panel Systems Unlimited, our open office furniture is available in various dimensions and configurations to adapt to the space you have and provide your employees with a comfortable, convenient place to work. You can also count on quality craftsmanship since we carry pieces manufactured by the well-respected brand Open Plan Systems (OPS), known for its attention to detail. Not only is our open space furniture built to industry standards to last through years of everyday use, it is also fully customizable with numerous options. When you choose our open plan systems furniture for your office in Macon, GA, or any surrounding area, you'll be able to select from the following features:
Various panel fabric patterns
Trim, base, and edge color selections
Assorted work surfaces
And more
For more information on the premium open plan office furniture we offer to businesses in Macon, GA, and neighboring cities, please contact Panel Systems Unlimited today.