Functional Open Plan Office Furniture Available to Businesses in Tampa, FL & Neighboring Communities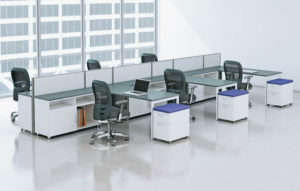 Open plan office furniture is a rising trend among businesses in Tampa, Florida, and the surrounding areas. That is because it has become well known for being the most effective way to maximize the space of your office. At Panel Systems Unlimited, since 1996, we have proudly offered this unique style of furnishing as well as all of the other well-established types of office furniture you may desire for your business.
Open plan office furniture will allow for easier collaboration and teamwork at your Tampa, FL, business, and you can rest assured that Panel Systems Unlimited will have the exact look and style you are looking for. We always have a rotating selection of furnishings coming in and out of our warehouse which means that at any given time you will be able to find products from the most trusted manufacturers in the industry, including:
Herman Miller
AIS
Knoll
Teknion
HON
And more
Additionally, when you turn to us for any office furnishing needs you will be able to take advantage of our design team who will help you create the most effective layout for your office. Our team will then deliver to you a CAD-rendered image of what your office will look like once the installation is complete. Once we have your approval on the design, our installation teams will begin to move in your new furnishings.
For more information about the high-quality open plan office furniture that we offer to business owners in Tampa, FL, and the surrounding areas. A knowledgeable member of our team will happily answer any questions you may have about our products.