Convenient Open Plan Office Furniture for Your Business in Tampa, FL, or a Surrounding Area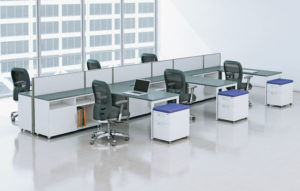 The open plan office furniture that Panel Systems Unlimited offers to business owners in Tampa, Florida, and the surrounding areas, are durable, aesthetically appealing, and will help promote an efficient and functional workplace environment. Our team of experts has proudly helped business owners since our founding in 1996 and since then we have built a reputation for being able to find the best new and remanufactured open office pieces.
Many business owners will consider open plan office furniture because of its ability to increase collaboration and team work among their staff because this unique style of design will group workstations together with less panels than a typical cubicle arrangement. However, at Panel Systems Unlimited we understand that you are also going to want your new furnishings to enhance the visual appeal of your business in Tampa, FL, or a surrounding area. That is why we offer a wide variety of customization options, including:
Work surface designs
Edge, trim, and base color selection
A wide variety of panel fabric colors and styles
And more
Additionally, our design team will assist you with finding a design that will suit the exact demands of your workplace. They will then provide you with a CAD-rendered image so that you can see exactly what your office will look like before a single furnishings is moved in. And, this will help sure that your furnishings will be installed in the most efficient way possible so that your staff can get back to business as usual.
For more information about the open plan office furniture that we offer to business owners in Tampa, FL, and the surrounding areas, contact Panel Systems Unlimited today. We feel so strong about the products and installations we perform that we offer a lifetime warranty on all of our office furniture.