Functional Open Plan Office Furniture in Miami, FL & Surrounding Areas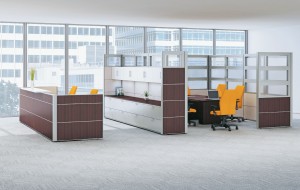 If your business is considering open plan office furniture, turn to the leading experts in Miami, Florida, and the surrounding areas – Panel Systems Unlimited. Open plan layouts will allow you to save money in the long run due to a reduction in costs associated with utilities, equipment, and construction. Perhaps more importantly, an open plan system will also allow you have a more functional office space that will keep your employees on task and able to more easily collaborate throughout the day.
Panel Systems Unlimited offers a large selection of furniture in the open plan style. These pieces will fit every size, style, and type of office. And, no matter whether you select a new, preowned, or remanufactured piece you will be able to have full control over the new furniture you purchase for your office. Customizable options available to business owners in Miami, FL, and the surrounding areas include:
Work surface materials
A wide variety of colors
Fabric patterns
And more
What's more, our team will ensure that your new open plan furnishings will mesh well with your office space by providing you with a CAD drawing to preview your new layout before any furnishings are ever delivered.
For more information about the open plan office furniture available to business owners in Miami, FL, and the surrounding areas, contact Panel Systems Unlimited today. Our team of experts will happily answer any questions you may have about our entire product line.