Spacious Open Plan Office Furniture for Businesses in Charlotte, NC & Surrounding Areas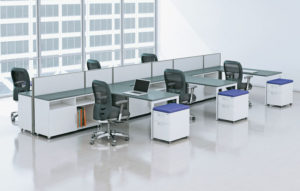 Having open plan office furniture installed at your office space in Charlotte, North Carolina, or a surrounding area, will help to maximize the space at your business. For the widest selection of open office furnishings, turn to Panel Systems Unlimited. We have been in business since 1996, and have magnificently maneuvered between the ongoing trends in office furnishings.
Our inventory is always changing thanks to our ability to acquire used furnishings and resell them to our customers at a fraction of the price. Because we always have a large selection of furnishings in stock, it is likely that we will have something that will work for you.
Furthermore, when you select Panel Systems Unlimited as the office furniture dealer for your Charlotte, NC, workspace, you will have many choices to make for your new furnishings, including:
Trim, edge, and base colors
Panel fabrics
Assorted work surfaces
And more
Additionally, when you choose to partner with us you will be able to take advantage of our incredible design team that will be ready to help you create the ideal layout of your future office. We will not begin the installation and setup of your new open plan furnishings until you are 100 percent happy with the layout our team has provided.
For more information about the open plan office furniture that we offer to businesses in Charlotte, NC, and the surrounding areas, contact Panel Systems Unlimited today.