Open Plan Office Furniture Available to Businesses in Asheville, NC & all Surrounding Areas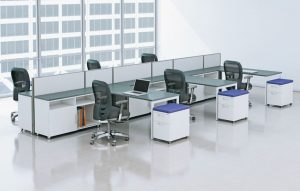 Selecting Open Plan office furniture for your business in Asheville, North Carolina, or a surrounding area, is an effective way to ensure you're receiving a high-quality product that is easily customizable for future rearrangements to your workplace. Not only will Open Plan furnishings ensure that your employees have a comfortable workstation to work at but it will also make it easy for your office to grow and expand alongside your business.
In addition to the flexibility offered by preowned Open Plan office furnishings, their products are also able to create a more aesthetically appealing workplace through a variety of customizable features. Whether you select an Open Plan workstation, bench, or desk, you'll be able to select from a variety of custom:
Trim, base, and edge colors
Panel fabric designs
Customized work surface colors and materials
And more
Impressive Design Team
When you turn to Panel Systems Unlimited, you'll be able to take advantage of our impressive design team to create the most effective layout for your office space. All of our designers are certified and will provide you with a CAD rendering of your office's floor plan to be able to view exactly how your layout will look once all furnishings are installed in your new space.
For more information about the Open Plan office furniture available for your business in Asheville, NC, or a surrounding area, contact Panel Systems Unlimited today. When you do, one of our knowledgeable team members will happily answer any questions you may have about our products.