Office Dividers for Businesses Nationwide from Panel Systems Unlimited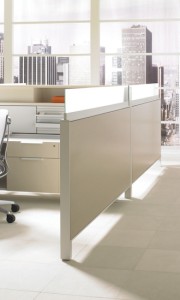 With office dividers from Panel Systems Unlimited, you can transform your office into a work area that provides practical, private workspaces for your employees. We offer an extensive selection of office panels for companies across the United States, from the leading manufacturers in the industry, such as Herman Miller, Haworth, Knoll, and Steelcase. Our components also come in a wide range of colors, sizes, and materials and can be arranged in nearly any configuration to suit your business space.
At Panel Systems Unlimited, our office dividers are more than just partitions, they are an integral part of your workplace design – providing an aesthetically pleasing, productive space for your employees to work. Some of the panel styles and features you can choose from in our collection include the following:
Glass panels
Various panel fabrics
Tile and frame partition models
Numerous trim and color varieties for a finishing touch
Once you select the office dividers that best fit your business, Panel Systems Unlimited will help you maximize your workspace with our design consultation services. One of our certified designers will assist you in developing an office layout that encourages an efficient traffic flow and optimizes functionality. Then, our expert technicians can install your new office dividers according to your specific plan, ensuring the finished space is just as you envisioned it.
As a full-service office furniture company, Panel Systems Unlimited can supply your business with exceptional products and services to outfit your office with any type of furniture you need, from call center cubicles to collaborative workstations and everything in between.
So, if you're expanding, redesigning, or opening a new business, contact Panel Systems Unlimited for quality office dividers to improve your workplace. We are proud to serve companies nationwide.