Panel Systems Unlimited Will Maximize Your Space with Office Space Planning Services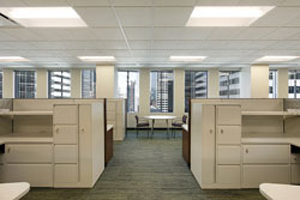 Is your business in need of new office furniture but you're unsure how to find the best layout for your office in Jacksonville, Florida, or a surrounding community? If so, look no further than the professionals at Panel Systems Unlimited. Our team offers the best new, preowned, and refurbished office furniture and when you turn to us for office furniture, you'll also be able to take advantage of our convenient office space planning services.
Our design team will create a CAD rendered drawing of your office and come up with a unique, color-coded installation plan that will you be able to preview before any installation of office furniture. This design will also take into consideration any ADA and Life Safety Codes so that you can feel confident that your new design will instantly suit the unique needs of your employees.
Office Furniture Installation Process
Once we have created the perfect design for your office, our team will begin to professionally install all of your products when they are ready for installation. We will handle everything from the assembly of your new furnishings to completing any electrical work that is required.
Contact Us Today!
For more information about the office space planning and preowned office furniture that we offer to businesses in Jacksonville, FL, and the surrounding communities, contact Panel Systems Unlimited today. When you do, we will happily answer any questions you may have about our products and services.