Panel Systems Unlimited Will Maximize Your Space With Office Space Planning Services in Athens, GA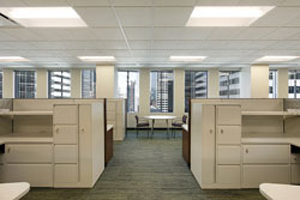 Is your business looking for new office furniture and a company to help you design the perfect layout for your office in Athens, Georgia, or a surrounding area? If so, look no further than the professionals at Panel Systems Unlimited. We have proudly served the area since 1996 and in that time we have become well known for offering high-quality new, preowned, and refurbished office furniture to businesses throughout the nation. And, when you turn to Panel Systems Unlimited for office furniture, you'll also be able to take advantage of our office space planning services.
Through this aspect of our business, we will use advanced CAD technology to create detailed drawings of your office and come up with a unique, color-coded installation plan. This design will consider any ADA and Life Safety codes so that you can feel confident knowing that we will maximize the amount of space at your office and provide a solution that suits your unique needs and fits all of your employees.
Contact Us Today!
For more information about the office space planning services available to businesses throughout Athens, GA, and the surrounding areas, contact Panel Systems Unlimited today. When you do, one of our knowledgeable team members will happily answer any questions you may have about our services.