Office Partitions for Businesses in Charlotte, NC & Neighboring Communities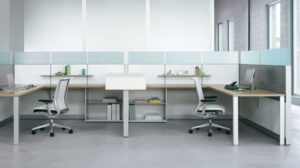 Office partitions from Panel Systems Unlimited can transform your Charlotte, North Carolina, area office into an efficient, attractive workspace. Our office panels come in a wide variety of colors, size dimensions, and materials and can be arranged in nearly any configuration to serve your specific workplace requirements. These system components are also fully customizable and offer the flexibility to adjust your office layout as your business grows and changes. Furthermore, the trained and authorized technicians at Panel Systems Unlimited can install your office partitions to your exact specifications, so you'll be able to optimize traffic flow and productivity.
You'll get years of service from our panel systems, since all of our products are meticulously inspected and cleaned before being offered for sale, with any necessary repairs or refurbishments done at that time as well. We are so confident that our furnishings will last that we include a lifetime guarantee on all the dividers we sell.
Once you select the office partitions for your company, you can further personalize them to suit the aesthetic style of your Charlotte, NC, office. We have a variety of features from which you can choose, including:
Assorted panel fabrics and patterns
Various surface materials and colors
A range of dimensions and shapes
And more
At Panel Systems Unlimited, we want to outfit your business with the furniture you need to complete your desired workspace. Contact us today to learn more about how our office partitions can create a better work environment for your Charlotte, NC, company.