Preowned Office Furniture is a Good Investment for Business Owners in Savannah, GA & Surrounding Areas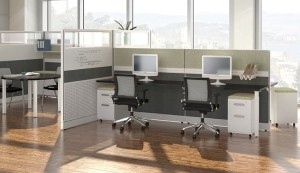 Purchasing preowned office furniture for your business in Savannah, Georgia, or a surrounding area, is an effective way to upgrade your office to top-quality cubicles and workstations without having to spend the outrageous prices associated with brand new furnishings. If this is the route you choose to go for your furnishing purchase it is important to select a company that has everything you are looking for. When researching companies, the first thing to make sure is that they don't offer any products that look previously used. When buying preowned furnishings that doesn't mean you need to be stuck with dirty or broken products.
Additionally, when you select a company to purchase your preowned office furniture from for your business in Savannah, GA, or a surrounding area, it is important that they offer all of the leading manufacturers in the industry. This is because you are going to want to find a functional and appealing style that will work for your office. Some of these manufacturers include:
Trendway
AIS
Knoll
Kimball
Herman Miller
Allsteel
Steelcase
Haworth
And more
Thankfully, Panel Systems Unlimited is in the area and can provide your office with the best preowned office furniture in the industry. Our exceptional selection of inventory is always rotating so we're always receiving new pieces that will be a perfect fit for your workspace in Savannah, GA, or a surrounding area.
For more information about the impressive office furniture that we offer to business owners in Savannah, GA, and the surrounding areas, contact Panel Systems Unlimited today.