Allow Panel Systems Unlimited to Manage Your Entire Office Furniture Installation Project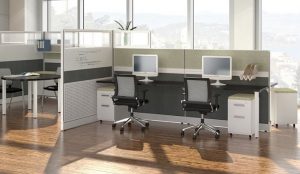 The installation of office furniture at your workplace requires a lot of planning that you probably don't have time for. Thankfully, Panel Systems Unlimited is able to proficiently handle the entire management of your office furniture project. This will allow you to continue to operate your business as normal while we take care of all of the time-consuming details. Our project management services are offered as part of every office furniture sale so you can feel safe knowing that you'll be able to continue operating your business as normal throughout the entire duration of your installation.
Some of the services we include as part of our project management division include the hiring of subcontractors such as electricians and craftsmen if needed. This can be a time-consuming process and it is hard to know who to trust for this important process. We will utilize our connections to provide you referrals to reliable companies so that you can take the risk out of hiring the right company to implement the new design of your office.
Certified Design Team
In addition, at Panel Systems Unlimited we'll also manage the entire design process of your office furniture project. Our team of designers will keep all of your functionality and aesthetic preferences in mind while putting together the best layout for your workplace. Once we have your approval on a CAD rendering of your new design, we'll begin your office furniture installation.
To learn more about the project management services we provide for office furniture installations, contact the experts at Panel Systems Unlimited today. When you do, one of our team members will happily answer any questions you may have.