Conveniently Refurnish or Expand Your Office with Furniture from Panel Systems Unlimited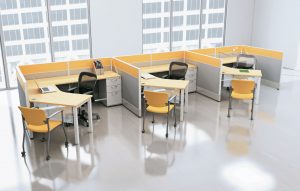 If the time has come to expand your office or remodel your workspace with updated products and layouts, the experts at Panel Systems Unlimited are happy to help. We proudly offer products from a wide variety of manufacturers to suit the needs of all business owners in Atlanta, Georgia, and the surrounding areas. And, our team of installers are capable of handling the installation of all types of office furniture so you can feel safe knowing that your project is handled with expertise. In fact, our installers are all fully-insured and -certified so you can rest assured that your project will be completed without any issues. Not only will we physically move your new pieces into your office but we will also ensure everything is set up correctly when it gets there so you can get back to running your business as soon as possible.
New, Preowned, and Refurbished Office Furniture
When you turn to the professionals at Panel Systems Unlimited, you'll be able to select from a wide variety of products that are able to satisfy the needs of your business. Our products are available in either new, preowned, or refurbished conditions to suit the requirements and budgets of every business owner. Some of the many types of office furniture we offer includes:
Workstations
Office desks
Seating
Ergonomic furniture
And more
Certified Design Team
One of the biggest barriers to an office furniture installation is that it can be hard to know where to put new furnishings in your office. Thankfully, Panel Systems Unlimited also has a certified design team that is capable of creating a functional and aesthetically appealing layout that will satisfy all of your needs. We will create a CAD rendering of your office for your approval so you can see what the completed design will look like before any work begins.
For more information about the office furniture installation services available to businesses in Atlanta, GA, and the surrounding areas, contact Panel Systems Unlimited today.