Office Desks for Companies in Atlanta, GA & All Surrounding Communities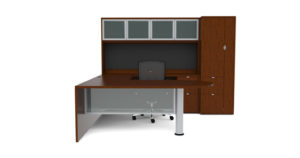 At Panel Systems Unlimited, we have the premium office desks you need when upgrading or outfitting your business in Atlanta or any other nearby community in Georgia. Our impressive desking inventory is composed solely of Cherryman systems. Available in their full range of product lines, including Amber, Jade, Ruby, and Verde, this selection of office desks ensures that you will be able to find a model and style that perfectly suits your personal aesthetics and the demands of your business.
To help you with the design and set-up of your new desks, we offer professional planning and installation services. Our design specialists can build a CAD of your Atlanta, GA, area office, creating a digital blueprint that maximizes the available space while optimizing the creative and collaborative potential of your work environment. Following this, you can then have our expert technicians arrange and assemble your new desks precisely according to your plan.
As an authorized dealer of Cherryman products, we offer more than just their incredible office desks. Additional casegoods from which you can choose when supplementing your bulk used systems furniture order include:
Bookcases
Shelving
Conference tables
Armoires
Filing cabinets
And many more
For more information on our selection of Cherryman office desks and the benefits of turning to Panel Systems Unlimited for all your commercial office furniture needs, please contact us today. We proudly serve companies in Atlanta and all neighboring communities in GA.