Reliable Office Cubicles Available to Businesses in Columbus, GA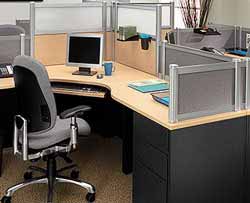 The search for quality office cubicles for your business in Columbus, Georgia, or a surrounding area, can end with the professionals at Panel Systems Unlimited. We have proudly offered impressive office furniture to businesses in the area since our founding in 1996 by providing quality workstations that will meet the needs of your business. Whether you desire just a few cubicles, a room of computer workstations, or an entire floor of call center cubicles, our team can supply and install all of the furnishings for you.
In addition, as a full-service office furniture company, we are able to offer you professional installations and impressive designs that will ensure that your new office cubicles will truly fulfill the requirements you have for your workplace. In order to ensure this, we will create a CAD rendering of your workplace so that you can see where your new workstation will be installed to make the most efficient use of your office space. Once we have your design approved, we'll set everything up according to your unique specifications.
In addition, our office cubicles are manufactured by some of the most well-respected names in the industry. This will allow you to rest assured that you're receiving products that are created with durable construction, an attractive design, and the long-lasting performance you desire out of your new cubicles.
Contact Us Today!
For more information about the impressive office cubicles available to businesses in Columbus, GA, and the surrounding areas, contact Panel Systems Unlimited today. When you do, our team will happily answer any questions you may have about our quality office cubicles.