Office Cubicles for Atlanta, Charlotte, Nashville, Raleigh, and the Entire Country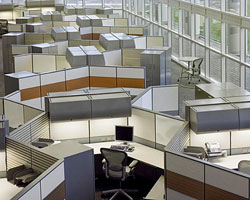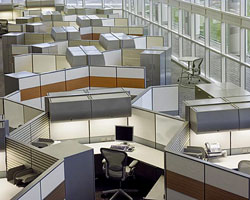 Office cubicles should provide two very important benefits for any office: the right amount of privacy needed to maintain employee productivity and the convenience of reconfigurable designs to accommodate office changes. Panel Systems Unlimited has an extensive selection of office cubicles from manufacturers renowned for innovative, multifunctional designs and exceptional craftsmanship, so offices across the country can experience all the advantages of office cubicles. From call center cubicles and telemarketing cubicles to computer workstations and more, we are sure to have the right type of cubes and other systems office furniture for your business' unique needs.
We sell both new, used, and remanufactured office cubicles at an unbeatable value. For new and remanufactured cubicles, we are proud to be an authorized dealer for Open Plan Systems, which features:
OPS2 Signature Series – These open plan cubicles are completely customizable and affordably priced, and they are also fully compatible with Herman Miller AO2 systems furniture.
OPS2 Sustainable Series – These high-quality remanufactured cubicles, which have been stripped down to their core and thoroughly reconstructed, are extremely durable and provide excellent value for your money. These cubicles are also fully compatible with AO2 open plan systems furniture.
Our used and refurbished cubicles come from some of the industry's top manufacturers and are known for their exceptional appearance. We carefully inspect all of our used cubicles for structural quality and cleanliness. If they don't meet our high standards, they don't make it into our inventory. Those that do enter our selection are thoroughly retouched by office furniture craftsmen with more than 40 years of combined experience until they look like new.
Our used office cubicle selection has models from industry-leading manufacturers, like:
Herman Miller
Knoll
Haworth
Teknion
Kimball
Allsteel
Whether you need new or used office cubicles, our furniture specialists can help you get the workstations you are looking for to fulfill your needs, and then used detailed CAD drawings to configure your workstations to maximize office efficiency. We can even procure all the matching casegoods that you need to fill out your office cubicle selection and liquidate your old furniture.
Contact Panel Systems Unlimited today for more information on our office cubicles and other new, used, and remanufactured office furniture for Atlanta, Orlando, Washington D.C., Baltimore, Lexington, and across the country.