New Cubicles for Companies in Atlanta, GA & All Neighboring Communities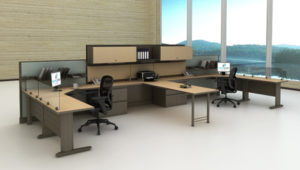 New cubicles from Panel Systems Unlimited can help create an engaged, collaborative environment in your Atlanta, Georgia area company. Flexible and adaptable modular office furniture enables you to maximize the layout of your workspace. At Panel Systems Unlimited, we specialize in helping you unlock the creative, productive potential of your workforce by providing the products and services necessary to build a better office space.
All of the new cubicles we sell are made by Open Plan Systems (OPS). As a leader and innovator in commercial office furniture, OPS has developed a reputation for manufacturing only aesthetically appealing, long-lasting products. Available in three distinct lines (panels, modular walls, and tiles), these OPS2 Signature Series office desk systems enable you to customize your Atlanta, GA, area workplace to suit the particular needs and style of your business.
Each line of new cubicles in the OPS2 Signature Series boasts a unique style that highlights a specific benefit, for example:
Panels – Seeking to maximize flexibility, this line offers the largest selection of design options.
Modular walls – Aimed at refining a workspace, modular walls enable you to manage noise and distractions in an open office plan at a fraction of the cost of alternative solutions.
Tiles – Offering an affordable advantage, the tiles line allows for a revolutionary look at a budget friendly price.
To learn more about how new OPS cubicles can help you unlock the productive potential of your business in Atlanta or any other surrounding community in Georgia, please contact Panel Systems Unlimited today.